Qu'est-ce que le Feeling Arts?
Le Feeling Arts est un art avant-gardiste créé par l'artiste moderne Yoshihiro Kitamura qui a utilisé sa sensibilité et ses techniques uniques. Le Feeling Arts provient de la fusion de la peinture, de la lumière et de la musique. Des thèmes tels que "la Terre", "l'Univers", "la vie" et "le monde céleste" sont exprimés sous forme de peintures abstraites sur de grandes toiles avec de l'encre de Chine, de la terre et de la peinture acrylique dorée.

He casts various colors of light, accompanied by enchanting music played with a synthesizer, sho (a Japanese court instrument) or Chinese harp, along with a full orchestra, inviting the audience into a fantastic world of beauty. Although viewers perceive three-dimensional images, those images reflect each viewer's state of mind and are completely unique.

Kitamura's performance is, therefore, described as a sensory art that opens up a dialogue among the painting, light, sound and the mind of each member of the audience. As such, his art effectively helps people purify their minds, and is now drawing the attention of specialists in the field of medicine as well as social services.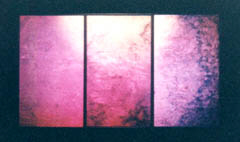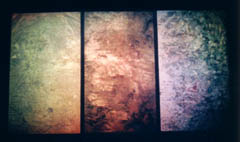 Copyright (C) 2005- Feeling Arts Academy